Why has HOsiHO joined the

INA Partner Collections?


HOsiHO collection of aerial images and timelapses joins the prestigious INA Partner Collections
The first contact was made in May 2019 at a trade fair in which INA and HOsiHO participated. This was well before the pandemic, at the
Footage MarketPlace
in London.
Thus, INA, the french National Audiovisual Institute signified to HOsiHO its desire to join the various collections it distributes. The mandate was therefore signed in September 2019 and a long work of selection and synchronization began between the two entities so that in May 2020, a part of the aerial collection will be available for distribution on the
INAMediaPro
website with more than 20,000 video clips.
The measures related to the health crisis having led to changes in the organization of work, it is thus only at the end of January 2021 that the INA will officially announce this partnership through a mailing of which here is an extract, addressed to all its customers and based on three thematic trailers full of HOsiHO images, revealing the quintescence of the collection: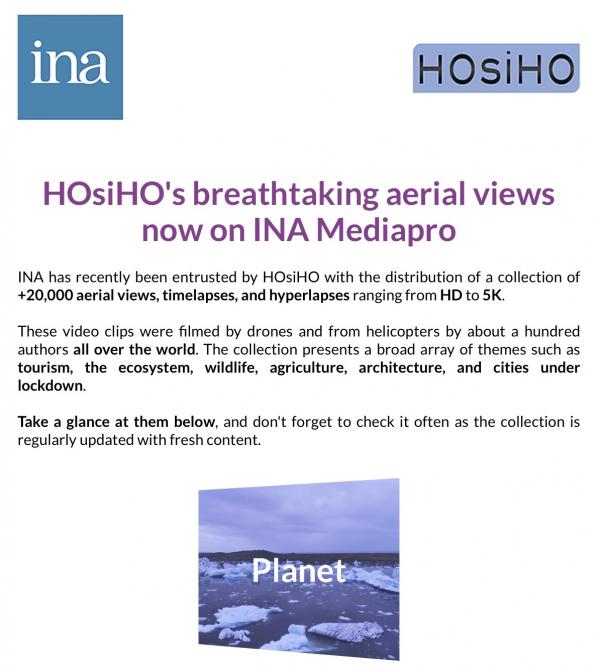 Why this partnership between HOsiHO and INA?


From the INA's point of view first:
if the famous institution wished to distribute HOsiHO collection, it is essentially for these four reasons, according to Sandrine Sacarrère, in charge of international sales :
Images of aerial views, timelapse, hyperlapse that the INA did not have in its collection.
High quality images (from HD to 5K)
Images on specific themes that can enrich our collections
Clips suitable for our e-commerce site mediaclip, intended for online media and communication agencies.
From HOsiHO's point of view:
This partnership will benefit the artists, the buyers and the agency as well, mainly for these reasons :
Greater visibility of the aerial images, drone and timelapses of the collection
Premium and macrostock rates guaranteeing an excellent level of remuneration for the contributors and the agency
Gaining notoriety by being associated on the one hand with the prestige of the INA, but also with other partner collections, such as AFP, HOME, TF1, Médecins Sans Frontières, Interscoop, UNESCO, Télérama, etc...
---
? TALENTED WORLDWIDE AERIAL CINEMATOGRAPHERS WELCOMED !

Apply as a contributor and start to submit to HOsiHO's aerial collections
---
HOsiHO : more than an online stock library !
Assistance, advices & Guides
Artist's images highlight
Fair, simple and realistic pricing
Highly qualitative selection of stills and footage
Direct connection for commissioned work
Advanced free search if the image is not online