That was 7 years ago, in February 2014:
launch of the HOsiHO collection!
HOsiHO Showreel - february 2021

It's like it was yesterday!
In February 2014, HOsiHO launched a new collection of aerial images by drone shot in 4K!
At that time, it was still considered as an Innovation, and that was the point of this great adventure: to gather the most beautiful aerial images by drone (and other aircraft), in 4K, and from now on in 5, 6 and even 8K!
Here we are 7 years later, with a library of nearly 40,000 online media and a distribution partnership with INA !
Thanks to your support and loyalty.
Thanks also to your enthusiasm and your help, which has allowed us to improve our services and refine our offers!


Be warmly thanked, and more than ever, be sure that we will make it a point of honor to find for you the images from the sky that you will need this year.
No matter how difficult and rare!
In the meantime, enjoy our 17% discount on all your orders from February 7th to 17th, with the coupon code 7YEARS, to be used before checking out.


Sincerely yours,
HOsiHO Team
---
HOsiHO turns 7 : let's celebrate!


What about a 17% discount coupon,
valid 10 days from February 7 to 17 ?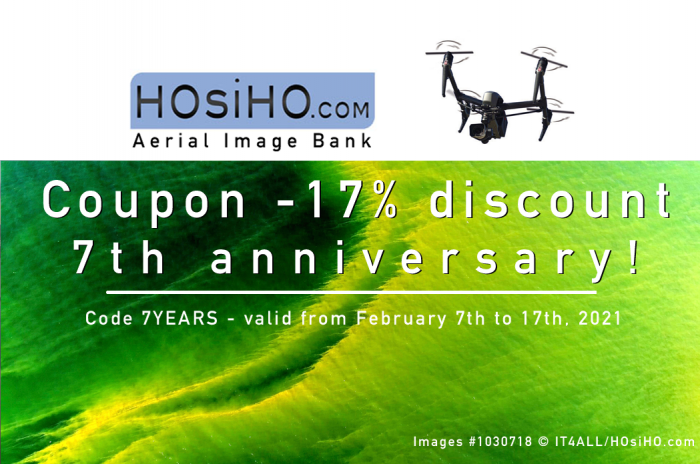 17% discount coupon valid from February 7 to 17 on all rights purchases over 240€.
Code to be used in before checking-outt: 7YEARS
---