Which drone footage should you focus on?
The aerial image collection has just passed the 40,000 online media milestone. Many thanks to you the talented authors of HOsiHO. From now on, we will provide you with the market trends in order to continue growing the collection and its reputation.
This goes through you, and we are here to listen to you if you have any questions.
So, you are probably wondering which aerial images are the best sellers?
The answer is simple:
Videos of Cities and Villages
Videos related to the world's major confined cities
Videos of exceptional natural phenomena
Shoot first in urban areas, with preferably a strong center of interest (a city, a residential area, a business area, major traffic routes, famous monuments of the city, the port, the station, parks, the most frequented places, ...)
What use for?
Cinema, Advertising, Documentary, TV News, Corporate film.
Let's go through it in detail, but before planning your flights, please check if we don't already have these images yet. (for example, Mont-Saint-Michel and the City of London are very well covered, so it is better to focus on what we are missing). Shoot 4K our more. Raw or ProRes if you can.



Galleries of the best-selling aerial images on HOsiHO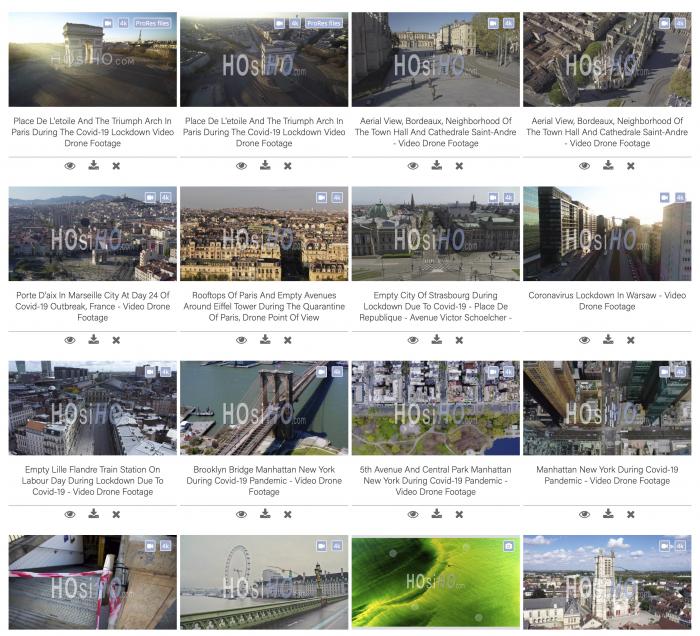 Videos of Cities and Villages
Why cities sell much more than landscapes?
Because they are more difficult to fly over for permission reasons, and therefore more seldom than landscapes, except in some cases. Moreover, the demand is much higher. The more important the city is, therefore known, the more it sells. The same goes for a landscape and a monument. Think about it before planning flights.
And the villages or small towns?
All villages or small towns are interesting because we have buyers who always need the one that we don't have on file! So, shoot them all, and take the opportunity to show the town square, the church, the town hall, the main street and some remarkable surroundings (tourist attractions, forest, river, canyon, etc)
What to shoot in cities?
It all depends on the size of the town. As a general rule you need at least these plans:
establishing shot of a city (skyline)

city downtown, the city hall and the main streets of the city

train stations, airport, harbor, etc.

economic activity places: City of London, La Défense, Manhattan, ...

cathedral, or main places of worship according to the country

main monuments

markets and shopping centers

places of relaxation (parks and gardens, busy beaches, ...)

residential areas: housing estates, suburban areas
At what time of the day should it be filmed?
It is necessary to adapt to the subjects and to the crowds, always by a beautiful light, if possible. An empty boulevard is very good for a "Covid" subject, but a congested boulevard in a big city is much more realistic of daily life. To be preferred.
Nightime is becoming more and more requested. It is true that the lack of this kind of images is a major asset for selling.
What kind of drone flights to make in a city?
TopShots when possible (camera titled at 90°)
Long flights of about 20 to 40 seconds without sudden movements
Vary the flights and combine the trajectories: circular, revealing, ascending, upward/sideways, low level flights,...
Upload these shots as a priority!
If you already have these kind of images on your hard drives, don't hesitate to download them in priority via your Contributor Portal.

Videos related to the major confined cities
As the pandemic drags on and the first anniversary of this health crisis, aerial and ground videos related to Covid-19 are more than ever in high demand.
We have a very nice collection on the topic, but we are still missing a lot of big cities in the world.
Think also about images related to vaccination: line of patients, cars, arrival of vaccine batches in the centers, etc.
If you already have these kind of images on your hard drives, don't hesitate to download them in priority via your Contributor Portal.
Videos of exceptional natural phenomena
Aerial and ground videos and photos of natural phenomena or disasters, as well as those generated by human activity, are highly sought after because they are related to the question of the environment and our own survival and well-being. So many society issues that are eminently contemporary and therefore frequently treated.
A non-exhaustive list of images that are severely lacking in the collection :
Storms / Tornadoes / Floods: during and after (the damage)

Advancing desert / desertification / deforestation

After an earthquake / Fire : the help on the spot

Volcanic eruption and consequences on the landscape and the people around

Avalanche / Landslide

Water pollution / Shipwreck at sea / Discharge into rivers and lakes

Dumping sites / Waste in the sea or in the natural environment

Abandoned power plants, wind farms and solar farms
If you already have these kind of images on your hard drives, don't hesitate to download them in priority via your Contributor Portal.
If you are not yet a signed contributor,
please consider joining HOsiHO before submitting your images.