Help and FAQs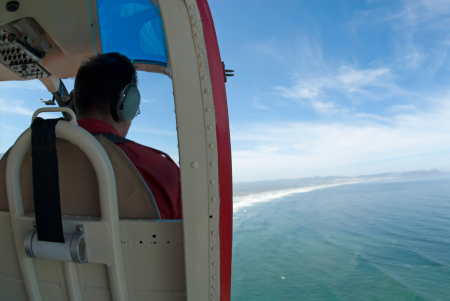 HOsiHO, aerial stock footage and stills agency, offers since

2014 several collections of high-quality aerial photos, aerial videos and timelapses, shot

by professionals, all experts in aerial imagery, and using different flying crafts such as drones, microlights, airplanes or helicopters.
Contributors names and/or rights-holders production companies are always mentioned on HOsiHO website.


Since 2020, HOsiHO is also distributed by INA (Institut National de l'Audiovisuel) as a Partner Collection, via INAMediaPro website.

Our answers to Frequently Asked Questions :
How to search using multi-criteria and what are the exclusion/inclusion words?

To get started, type a few keywords in the main search bar.
If you want to limit your search to only one type of media (Footage or Photos) you have a small drop-down menu on the left.

Tick and start the search. With the corresponding thumbnails, you will see on the left a set of filters and preferences that will allow you to refine the search results.


As you can see below, you can choose from a wide range of criteria such as image type, resolution, orientation, duration and frame rate for videos, license, shooting date, and the availability of model and/or property releases.


If you're looking for a particular season, enter the name of that season in the keywords, as this information is automatically included in the metadata of all our images.
You can also search only in a specific gallery and not in the entire collection.
Finally, the Preferences allow you to customize the display priorities of the found images.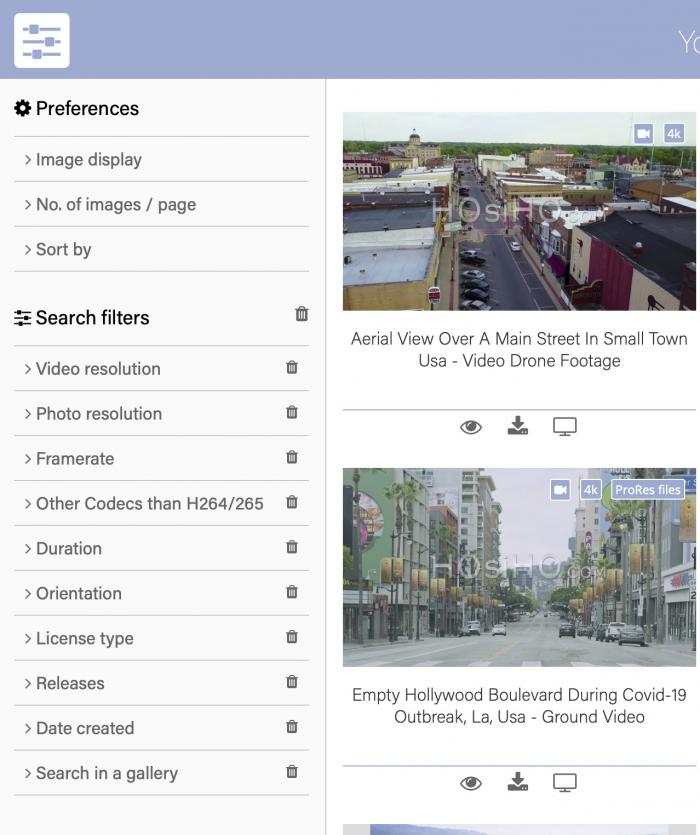 WORDS OF EXCLUSION / INCLUSION IN A RESEARCH
Here are the words to use to include or exclude terms from the search field:
Exclude: use NOT to exclude inappropriate images (eg. France NOT City)
Alternative: use OR to display the results of one or the other term (eg. Forest OR Trees)
Include: use AND as part of a complex search using NOT and / or OR (by default a word sequence is considered "inclusive" by the search engine, then you do not need to add this term AND)
What should I do if I can't find the aerial images I'm looking for?
If your deadline is not too tight, we can help you !
or call us on +33 768.347.313 (France)
---
If your need is too specific, shouldn't you commission it?
In this case, we could put you directly in contact with the nearest professional drone pilot,
thanks to our HOsiHO Drone Pilots Network platform.
Be sure to select the shooting location, either Out of France, or one of the listed French Department/Territory.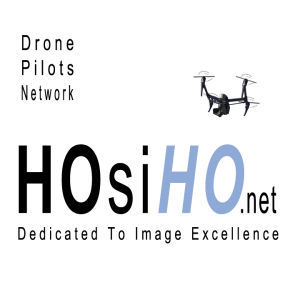 What is the origin of the digital files?

Our images can be immediately downloaded in high-resolution after payment and acceptance of our license terms (see below).
We are very picky about image quality, colour, contrast, colour aberration, distortion, noise, sharpness and if the footage or the still is not satisfactory on all these points, we do not distribute it.
Every visual content accepted in the HOsiHO collections has been hand selected by a curator.
We only pick images that are beautiful, relevant and stunning. We don't want you to browse endless pages looking for the perfect shot. That's why we do that for you on a high curatorial standards.

Footage: we always upload the highest available resolution. This means we already have online files ranging from HD to 4K ready for you. From HD1080 pixels to 4K and even 8K at different frame rates (see footage window).
The duration is variable but mostly less than one minute. Each video has been very carefully edited and possibly corrected. The compression codec is the H.264/H.265 for the online collection.
Some videos files are also available off-line in ProRes422HQ or ungraded Raw/Dng, upon special request and additional costs.
Photos: Our contributors shoots at the highest resolution (8mb to 100mb uncompressed), JPEG12 size, colour profile Adobe RGB (1998), 300 dpi. Lighter versions are offered for license to suit your needs. Each photo is retouched and optimised with care. Our photographers are all equipped with the latest high-resolution DSLR, some with full frame sensor and professional optics.
On HOsiHO.com all images are delivered ready for distribution without additional work.
How to find stock aerial & drone footage?

To license an aerial video on HOsiHO, you will need to select Footage from the drop-down menu on the search bar and then type in your keyword(s).

Then, you will be able to sort and filter the videos on the result page. Indeed, our videos are available in various formats :


resolution ranging from HD to 4K and more,
frame rate from 24 to 60 frames per second
landscape or portrait orientation
H264/265 codecs, ProRes Files, Raw Files
Two licenses are available, editorial and commercial.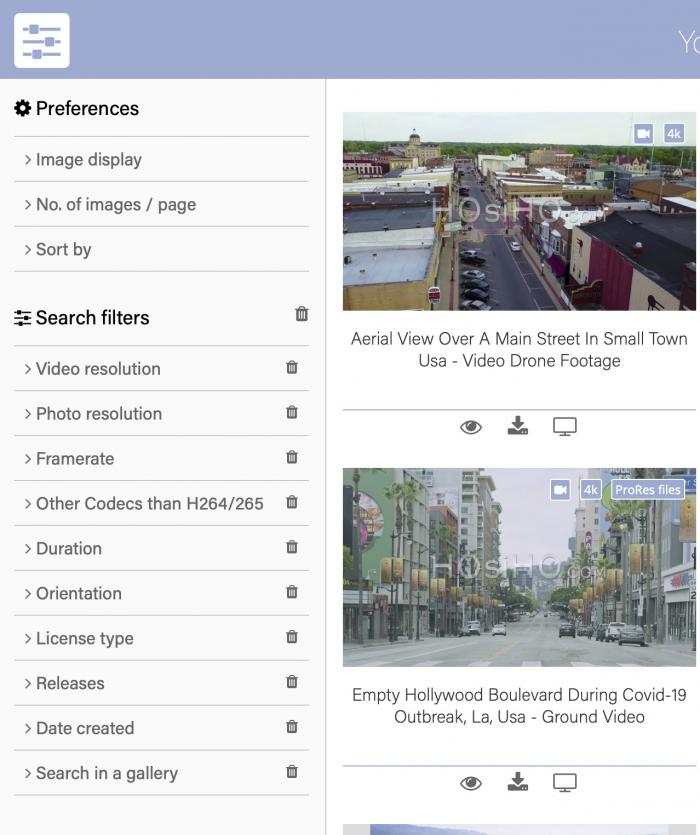 Why aren't all the videos available in Raw or ProRes?

Several thousands aerial videos and timelapses are available, on option, as Raw or ProRes files, in addition to the traditional clip delivered in H264/265, at the condition, of course, that they were recorded natively in these uncompressed codecs.
Indeed, several aerial artists shoot with heavier gears than other UAV pilots or videographers, and can optionally deliver the native file in RAW and/or ProRes.
Just tick the corresponding box when you place your order. For the H264/265 codec version, as usual you will immediately receive the link to download it. For the Raw/ProRes file purchased as an option, you will have to wait 24 to 48 hours (or more) for us to provide it to you separately.

Find in this dedicated gallery all the aerial videos and timelapses available either in ProRes or RAW (see the icon on the thumbnail).
To search for them easily, use the Other Codecs than H264/265 search filter on the sidebar that appears after a first search
A Raw and/or ProRes icon is displayed on the thumbnails of the clips with the option.
Can I order an HD1080p or 720p version, not the 4K video?

Yes, you can choose the resolution that suits you best for your current project.
HOsiHO offers, for all available clips in 4K, a reduced rate depending on the chosen resolution:
minus 40% of the 4K price for delivery at HD1080p resolution
minus 50% of the 4K price for delivery at 720p resolution
Simply go to the page of a video and scroll down the price list for the desired resolution, then tick one of the proposed uses.
Here are the price-list for HD1080p: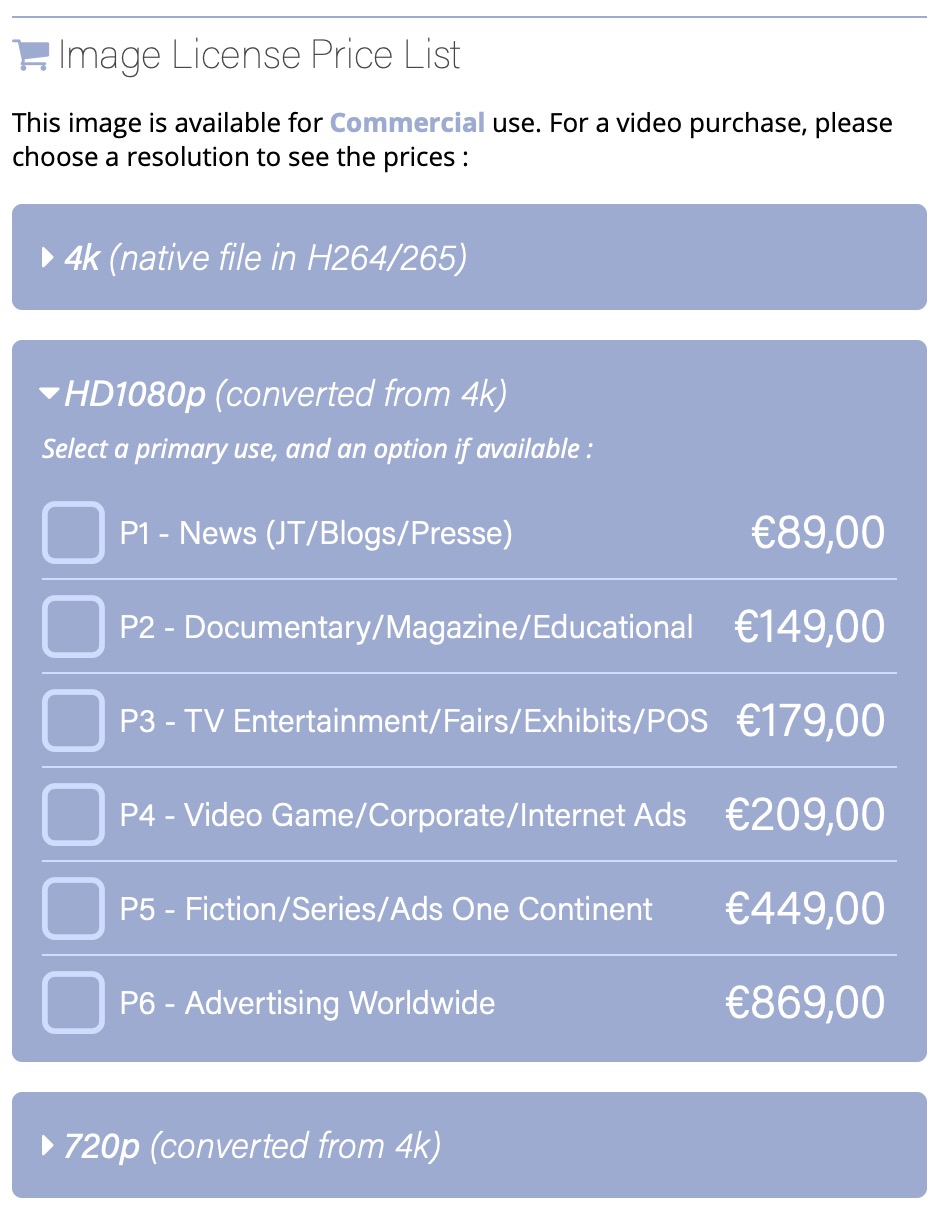 Once the order is submitted, our video converter will prepare the footage at the required resolution and once it is ready, you will receive an e-mail with a download link.


How to find aerial stock photography?
To license an aerial photograph on HOsiHO, simply select Photos from the drop-down menu on the search bar and enter your keyword(s).





You will then be able to filter the photos on the result page according to different criteria :


resolution from 8 Mpx to more than 50 Mpx
orientation : landscape or portrait
editorial or commercial license
If you don't find the photo that meets your expectations, you can extract a high definition image (up to 8mpix) from any 4K footage that are present on HOsiHO.
How to extract a still image from any 4K video ?
A

ny logged-in visitor can extract, from a 4K video,

a still image of 8 megapixels or higher,

and then
acquire the rights at the price of a photo license.



A simple click on the Extract icon and you have access to a slider.
Just move it to the view that suits you the best and then click Extract.


A new page including the extracted photo will be created within 10 seconds and you will then be able to license the still image and download it immediately, at the native resolution of the video (4K, 5K, 6K or more).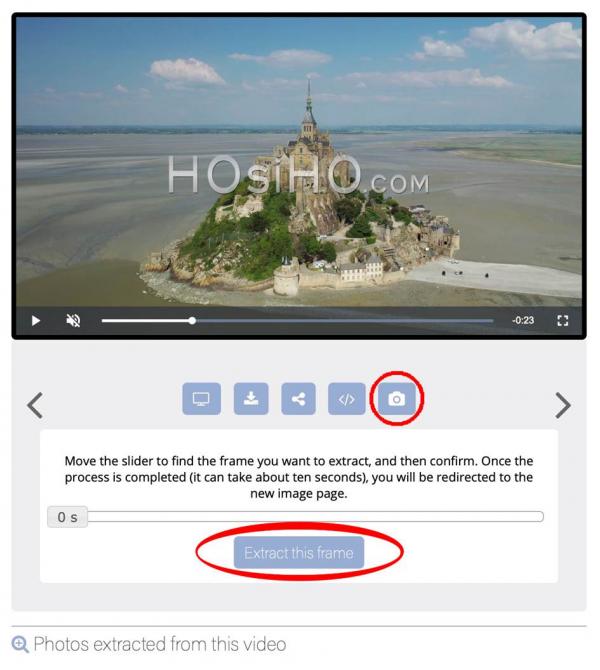 This service allows our clients looking for photos for a printed story publication or a website, to extend the research field to our collection of aerial footage and timelapses, this in addition to our aerial photography collection.


Please note that the quality of the extracted photo strongly depends on the quality of the video from which it was taken and on the chosen moment. It can in no way be equal to a photo from a camera.

We therefore recommend that you choose to extract a fixed view on slow, stable, and perfectly sharp video shots, in order to avoid images lacking sharpness.


By ordering an image extracted from a video, you accept a lower quality than a true high-definition photograph.
Do not hesitate to use the 100% loupe to properly analyze the quality of the extracted image, as no refund will be possible after purchase.
However, the replacement, upon request, by another image of the same footage is possible, especially in case of sharpness concerns.
Inspect our photos before ordering them, with the Loupe
Buyers can inspect any still image at 100% with our new magnifying tool.
We strongly recommend our clients to analyze the photos with this tool, so they will make sure it is good enough for their project, before licensing it !
It is very easy to use, just mouse-over the part of image to check and click.
You will see a square pop up from a 100% enlarged area of the image. (there are up to 70 squares cropped to 100% for a single image).
This tool is particularly useful for
photos extracted from a 4K video clip.

Below is a detail of a photo seen at 100%. On the right the other squares composing the image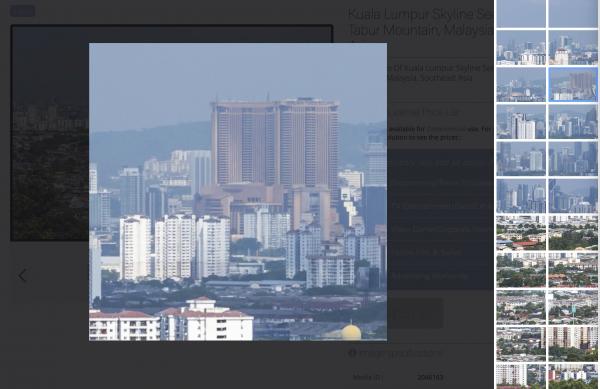 How much does a stock aerial photo or drone video cost?
The
media licenses available
on HOsiHO may vary in price depending on the use you wish to make of them, as well as the required resolution :
News

Documentary / Magazine / Educational

TV Entertainment / Exhibitions / Expo / POS

Video Game / Corporate / Internet Ads

Fiction / Series / Advertising One Continent

Advertising Worldwide
Note that these licenses are valid only per project, and are limited to the terms specified therein. The same photo or video can only be used for one project.

Price list example for an HD1080p video :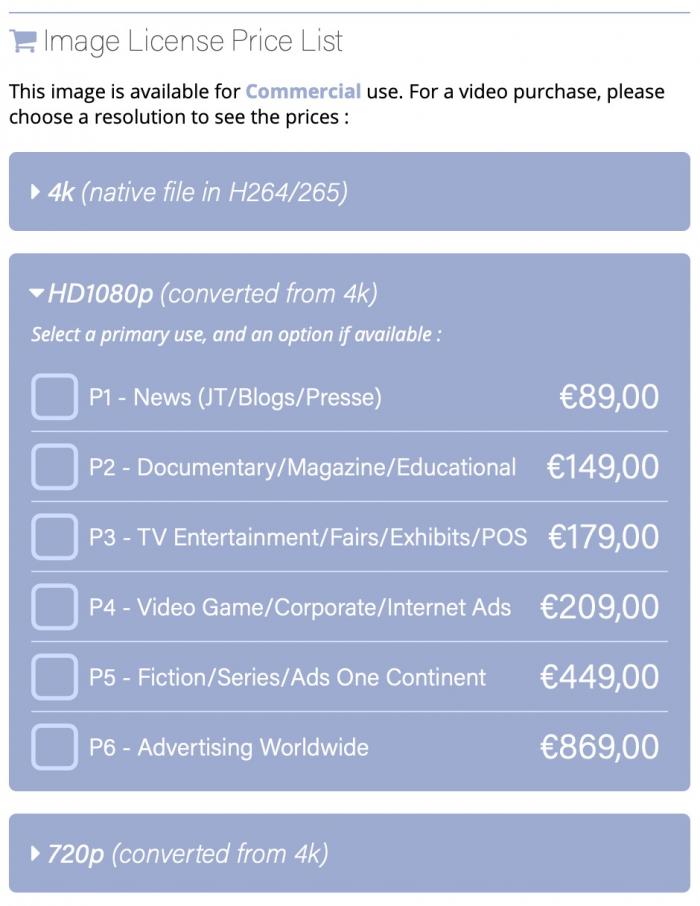 What is an Image License and what are its associated rights?
The images available on HOsiHO are not sold, only a End User License Agreement is granted, which is equivalent to an agreement for reproduction and/or representation as defined in our
terms.

It is indeed this license that you pay, and not the image itself because only the artist remains the owner. As such, he is the only one - with his agency that he entrusts - to be able to authorize a conditional use of his images.
The license therefore grants you a certain number of rights to use and publish the images that you will find in the image bank.


Before ordering and payment, please read and accept all the terms of our our End User License Agreement.
Pay a special attention to those sections:
II. GENERAL RESTRICTIONS FOR ALL LICENSES

III. LIMITATIONS OF USE
IV. PROHIBITED USE AND ALLOWANCES
Image rights of persons, goods and brands
We do not sell pictures of recognizable people or properties under our Commercial License if we do not have all the signed model releases and/or the property releases.
If necessary, the availability of the release is indicated under the relevant image, in this case it can be provided upon request.
You still can buy and use unreleased images if you intend to use it for Editorial purpose only.
Browse our collection of Editorial Use Only images by ticking the Advanced Search box: Editorial.
If you need it for a Commercial use, you will have to do the rights clearance and/or do the post-production work to erase any recognizable unreleased Properties/People/Trademarks signs and logos.
As stated in our EULA (section III), the licensee is responsible of the final use of the licensed images.
So please take a special attention to this before ordering from HOsiHO.
Except as provided under our End User License Agreement (section V), HOsiHO does not guarantee the use of images or confer any right or warranty as to the use of a trademark, name, brand clothing, decoration, art or architecture appearing on an image.

The licensee must ensure that the necessary rights clearance and authorizations relating to the foregoing and to the intended use herein has been obtained.


If I order several images at once, can I get a discount?
We are happy to give you a discount if you order five images or more at once.
Check this page to get your coupon's code.

Please note that every new customer receives a 10% off coupon for its first order !

By subscribing to our Newsletter, you will receive special offers and be kept informed of our new images and features.

Lightbox: how to create and share them?
It is possible to create multiple Lightboxes and share it by email with your team.
To use it, you need to create a customer account and login.
Click on the Lightbox icon in the right corner of the site navigation bar (it looks like a computer screen):

To create a Lightbox, click + New (left)
Give it a Name
Search for images and choose the ones to include (click on the icon below the thumbnails)
You can save the viewer for later retrieval and sharing.

You can remove images from the Lightbox

To share this Lightbox with other users, specify the recipients' email addresses and add a message (optional)
Who are our contributors?
The artists who make their contents available on HOsiHO are all recognized experts for the quality of their work, both technically and artistically. Distributed all over the world, they feed our collection throughout the year and can take pictures on demand if you don't find photos or videos that meet your needs.
If necessary, you can be put directly in touch with one of the members of the HOsiHO Drone Network (for France only), free of charge.
Finally, each author undertakes to strictly respect the laws of the countries in which the images were shot, and more particularly concerning the image rights of people or recognizable private property. For example, for France, it is necessary to justify appropriate training, to use approved drones and to be able to present a flight permit in the event of a check.
You can find out more about our aerial filmmakers by reading the interviews in which they present their work, their philosophy, their equipment and the assignments they are able to carry out.
How does HOsiHO support its Artists?
At its humble level, and through a set of clear actions, HOsiHO agency

considers that the practice of excessive and recurring promotions is likely to destroy the production of new high-end images. Here are the basic principles that it applies since always and that HOsiHO would like to see spread to all the stock image industry :
# 1 - Fair, simple and realistic pricing, Macrostock type
For both the buyer and the author, calculated according to image use, and in a way that
encourages creative people to produce more and make a living from it, the agency to grow,
and the user to find a qualitative production, constantly expanded and renewed.



# 2 - A fair split
50% of each sale goes to the image provider.
Everyone is paid for the work he has done.



# 3 - No excessive discounts
Lowering a price is lowering the value of the work of the artist who creates these images.
HOsiHO never discounts more than 20%, nor offers subscriptions plans
and other Value Packs or PA sales, at incredibly low rates.



# 4 - No exclusive contributor contract
All signed HOsiHO contributors are free to sell their images directly or through other agencies
having more or less the same selling price. This freedom allows authors to
maximize the potential revenue from their images, provided that they avoid
to offer the same ones on the 'microstocks' sites, which, in addition to offering
videos or photos at very low costs, give a small share to their contributors, the site
keeping up to 70%/80% of any sales (for instance, an HD clip sold $79
will only bring its creator $24 to the videographer ...)
# 5 - Assistance and Advice
Contributors, especially new ones, are often lost in the jungle of stock image outlets.
HOsiHO takes the time to listen to them, understand them, advise them and suggest them
the best way or decision to make regarding the marketing of their portfolio.
# 6 - Accurate captions and keywords
Crucial step in the era of online image libraries : even a stunning image poorly
captioned will be badly indexed in a search engine. It may never be seen by a footage
or stills researcher, therefore will have low chances to sell.
The agency therefore checks all captions and keywords provided by the authors,
then correct it if necessary, and finally informs the contributor about what has been changed
or added to his metadatas. So, he will know what to do for the next submissions.



# 7 - Understanding Market Expectations
Producing to create is fine. Producing to sell is even better!
For this, HOsiHO provides the authors with several tools to help them know or
anticipate market needs: image views statistics; frequently sought terms;
buyers needing images not yet available, either via the Facebook group or by email.



# 8 -
New Artist's images highlight
HOsiHO highlights the authors of the most beautiful submitted images.
Via its blog and social-medias, by publishing the most remarkable aerial videos.
This ensures the promotion of the agency quality and the great creativity of its contributors.



# 9 - Qualitative and not quantitative selection of images
By looking closely at every submitted image, the editors make a
qualitative selection of aerial footage and photos that buyers will have before their eyes.
What renders services to both parties: buyers having the quintessence of contributor's
production, and authors having a better idea of the level of excellence
required by the HOsiHO image collection.



# 10 - Aerial commissioned work
Most of the agency's contributors are aerial image professionals working
also under assignement. HOsiHO is happy to send them customers requests
artists is direct. HOsiHO does not take any share on any
assignement
services.




Why did INA include HOsiHO in its Partner Collections?
Since 2020, part of the HOsiHO aerial stock collection
is also distributed by INA (french Institut National de l'Audiovisuel) as a
Partner Collection,
via
INAMediaPro
website.
Here is why the famous Institution invited us, according to Sandrine Sacarrère, INA's Head of International Sales :
Aerial views, timelapse, hyperlapse that Ina did not have in its collection
Very high quality images (from HD to 5K)
Images on specific themes that can enrich our collections
Clips suitable for our e-commerce site mediaclip, intended for online media and communication agencies.
This partnership will benefit the artists, the buyers and the agency as well, mainly for these reasons :
Greater visibility of the aerial images, drone and timelapses of the collection
Premium and macrostock rates guaranteeing an excellent level of remuneration for the contributors and the agency
Gaining notoriety by being associated on the one hand with the prestige of the INA, but also with other partner collections, such as AFP, HOME, TF1, Médecins Sans Frontières, Interscoop, UNESCO, Télérama, etc...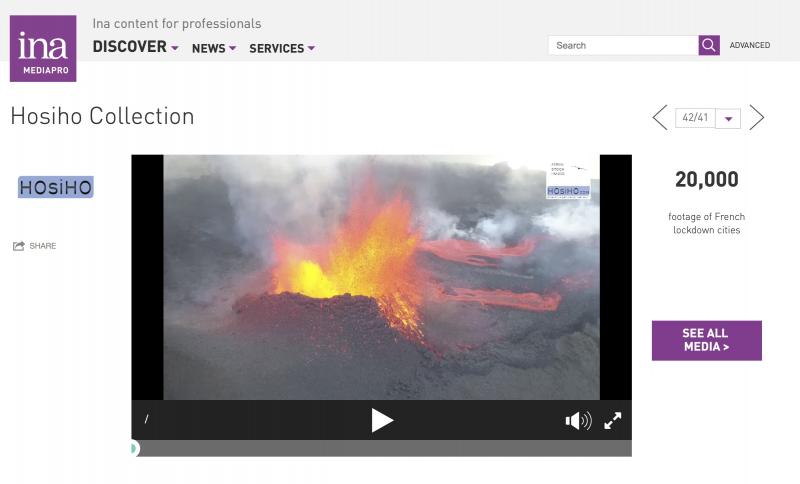 ---
HOsiHO as a stock footage and photography agency is member of FOCAL International based in London.
(Federation of Commercial Audiovisual Libraries International)

---