New feature on HOsiHO.com
Extract a still image from any 4K video !
Now any registered visitor can extract, from a 4K video,
a still image of 8 megapixels or higher, and then
acquire the rights at the price of a photo license.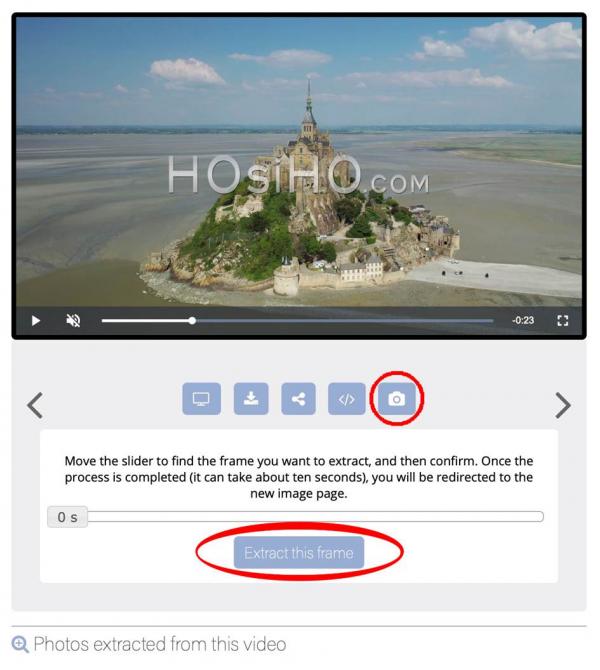 A simple click on the Extract icon and you have access to a slider.
Just move it to the view that suits you the best and then click Extract.
A new page including the extracted photo will be created within 10 seconds and you will then be able to license the still image and download it immediately, at the native resolution of the video (4K or more).
This service allows our clients looking for photos for a printed story publication or a website, to extend the research field to our collection of aerial footage and timelapses, this in addition to our aerial photography collection.
Please note that the quality of the extracted photo strongly depends on the quality of the video from which it was taken and on the chosen moment. It can in no way be equal to a photo from a camera. We therefore recommend that you choose to extract a fixed view on slow, stable, and perfectly sharp video shots, in order to avoid images lacking sharpness.
Lastly, by ordering an image extracted from a video, you accept a lower quality than a true high-definition photograph. Don't hesitate to use the 100% magnifying tool to analyse the quality of the extracted frame. No refund will be possible after the purchase, but the replacement by another image of the same video is foreseen, especially in case of sharpness concerns. Please do not hesitate to contact us, if necessary.
---
? TALENTED WORLDWIDE AERIAL CINEMATOGRAPHERS WELCOMED !

Apply as a contributor and start to submit to HOsiHO's aerial collections
---
HOsiHO : more than an online stock library !
Artist's images highlight
Fair, simple and realistic pricing
Highly qualitative selection of stills and footage
Direct connection for commissioned work
Advanced free search if the image is not online
---
Don't miss out our thematic galleries !
---