Aerial stock photography and video :
quick overview of HOsiHO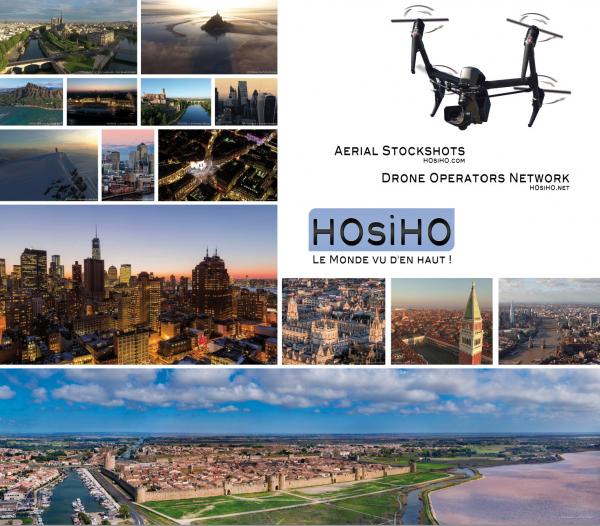 Who are our contributors?


The artists who make their contents available on HOsiHO are all recognized experts for the quality of their work, both technically and artistically. Distributed all over the world, they feed our collection throughout the year and can take pictures on demand if you don't find photos or videos that meet your needs.
If necessary, you can be put directly in touch with one of the members of the HOsiHO Drone Network (for France only), free of charge.
Finally, each author undertakes to strictly respect the laws of the countries in which the images were shot, and more particularly concerning the image rights of people or recognizable private property. For example, for France, it is necessary to justify appropriate training, to use approved drones and to be able to present a flight permit in the event of a check.
You can find out more about our aerial filmmakers by reading the interviews in which they present their work, their philosophy, their equipment and the assignments they are able to carry out.
---
Discover the diversity of our collection


You can discover HOsiHO's contents by using its search tool or by browsing through its selection of thematic galleries. You will then be able to choose :
a particular country: USA, Greece, Poland, Peru, Portugal, Laos, France, Croatia, Namibia, Scandinavia, United Kingdom, Romania, Switzerland, South Africa or Spain.

a type of videos : Raw / ProRes or Timelapse / Dronelapse

precise file: lockdown / Covid 19, fall, winter

navigate through our favorites or our Best of selection
With more than 37,000 medias, HOsiHO covers most of the world's major cities, human activities or major social themes such as ecology.



How to find aerial stock photography?


To license an aerial photograph on HOsiHO, simply select Photos from the drop-down menu on the search bar and enter your keyword(s). You will then be able to filter the photos on the result page according to different criteria :


resolution from 8 Mpx to more than 50 Mpx
orientation : landscape or portrait
editorial or commercial license
If you don't find the photo that meets your expectations, you can extract a high definition image (up to 8mpix) from any 4K footage that are present on HOsiHO.


---
How to find stock aerial & drone footage?


To license an aerial video on HOsiHO, you will need to select Footage from the drop-down menu on the search bar and then type in your keyword(s). Once again, you will be able to sort and filter the videos on the result page. Indeed, our videos are available in various formats :


resolution ranging from HD to 4K and more,
frame rate from 24 to 60 frames per second
landscape or portrait orientation
H264/265 codecs, ProRes Files, Raw Files
Two licenses are available, editorial and commercial.


How much does a stock aerial photo or drone video cost?


The media licenses available on HOsiHO may vary in price depending on the use you wish to make of them:
News

Documentary / Magazine / Educational

TV Entertainment / Exhibitions / Expo / POS

Video Game / Corporate / Internet Ads

Fiction / Series / Advertising One Continent

Advertising Worldwide
Note that these licenses are valid only per project, and are limited to the terms specified therein. The same photo or video can only be used for one project.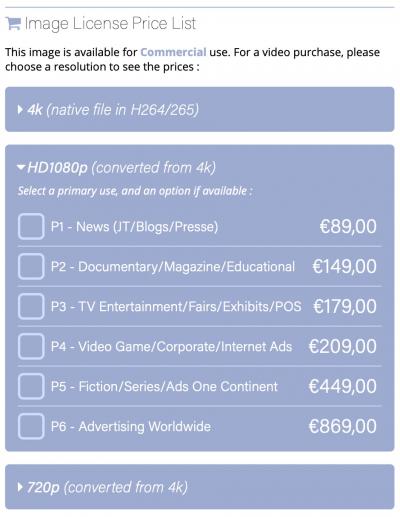 Aerial stills and footage for feature films and commercials


The quality of our photos and videos is perfectly adapted to the needs of the motion picture professionals. It is therefore entirely possible for you to integrate shots of faraway countries into the editing process while controlling your production costs, to use timelapses that would take too much time to produce, or photos for the backgrounds of your shots.
If you have specific needs in the production of your film, you can call upon one of our contributors who will have the required equipment and qualifications to carry out the aerial or drone shootings under your supervision.
The same goes for the professionals of the advertising industry who are sometimes challenged by limited budgets or technical means.


Aerial photos and videos for journalists and documentary filmmakers


By using aerial photographs and drone footage, you will be able to perfectly illustrate your statements with high quality images. These types of photos and videos are particularly effective when it is necessary to have an overview of a situation, which is unfortunately often the case after an accident or a flood.
On this scope, documentary filmmakers will be able to provide a better understanding of the evolution of our world by comparing the same shot between two periods, and your reports and documentaries will be even more captivating.

---