New footage option on HOsiHO.com
Choose your resolution when buying a video!
- 4K, HD1080p or 720p -

Lower price list for HD1080p and 720p footage
Until today, on HOsiHO.com a buyer had no choice but to buy a video in its original format, i.e. the one provided by the filmmaker, most often in 4K or more, and therefore at the highest prices.
Many buyers don't always need the ultra-high resolution version in 4K, and don't always have the budget to match, so we listened and heard them!
HOsiHO is pleased to give you the choice by offering a reduced price for all the clips in our collection available in 4K, depending on the resolution purchased :
minus 40% of the 4K price for delivery at HD1080p resolution
minus 50% of the 4K price for delivery at 720p resolution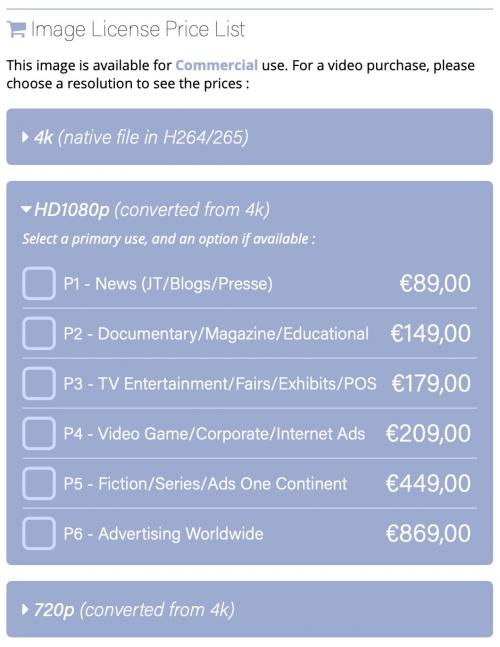 Please note therefore that the price of videos offered only in HD1080p has also been adjusted by minus 40% as you can see in the price list above.
This will allow us to address new markets, new users and to better stick to the very specific needs of each customer of our aerial image bank.
---
? TALENTED WORLDWIDE AERIAL CINEMATOGRAPHERS WELCOMED !

Apply as a contributor and start to submit to HOsiHO's aerial collections
---
HOsiHO : more than an online stock library !
Artist's images highlight
Fair, simple and realistic pricing
Highly qualitative selection of stills and footage
Direct connection for commissioned work
Advanced free search if the image is not online
---
Don't miss out our thematic galleries !
---